As promised in Teaching Gratitude, here are some recommendations for 15 books that help accomplish just that. I spent some quality time making this list and book descriptions as useful as possible. (I hope you find it SUPER useful!)  In my opinion, recommended target ages are helpful but VERY flexible, and they'll often differ from source to source. (I cited the range I most agree with.) The books on this list can be used year-round, not solely at Thanksgiving time.
Happy reading and teaching gratitude!
The Giving Tree by Shel Silverstein (Ages 5-8 per Scholastic)
Honestly, this book is great for all ages, as it can lead to some pretty deep reflection and conversations. I've also read it with great success to Pre-K students to celebrate Earth Day and discuss gratitude for and stewardship of our planet and environment.
Check out the 1973 animated short film of The Giving Tree with soothing narration from the author himself. There are some controversial interpretations of this book (which for fun, I encourage you to look into), so pre-read it and be prepared to guide the conversation in the direction that you want. Available in multiple languages, called El arbol generso in Spanish.
---
The Thankful Book by Todd Parr (Ages 3-6 per B&N)
A little something for everyone, but mommas will love this one: "I am thankful for walks because they are special times for just you and me." Aw. Let me go for a walk with my kids now and cry.
I'm Thankful Each Day by P.K. Hallinan (Ages 4-8 per Good Reads)

This book shows that Hallinan is a minister. Secular teachers can easily adapt it by skipping a page or two. Teacher trick: fold a Post-It note to stick the pages you want to skip together. Available in a bilingual version (pictured).
---
Thankful by Eileen Spinelli (Ages 4-8 per Amazon)
Every child will connect in some special way to really reflect on who and what they are thankful for. "The waitress is thankful for comfortable shoes." "The artist is thankful for color and light." As with I'm Thankful Each Day (see above), teachers can use a Post-It to edit or skip the one page that mentions God if they must. Available in Board book for little hands.
---
Bear Says Thanks by Karma Wilson (Ages 3-8 per Amazon)

There aren't as many opportunities for children to choral read the titular line as in other Bear books by Karma Wilson, but the story and illustrations are still the warm and sweet things we have come to love from her. My two year old is mesmerized by the illustrations and likes us to take our time with this read-aloud. Available in Spanish (YAY!) as Oso dice gracias.
---
The Secret of Saying Thanks by Douglas Wood (Ages 4-8 per Simon & Schuster)
It's a bit wordy for our littlest ones, but I highly recommend working this in when the time is right or reading it in parts, because the text is truly inspiring including this great line:
"We do not give thanks because we are happy. We are happy because we give thanks."
---
Gracias * Thanks by Pat Mora (Ages 5-8 per Amazon)
Like other Mora books, the writing flows seamlessly between Spanish and English, imbedding some culture and language for English monolingual students and for bilingual Spanish speaking students, instilling a sense of pride in their bilingual roots.
---
Thanks a Million (A Collection of Poems) by Nikki Grimes (Ages 5-10 per Amazon)
This book contains 16 poems about being thankful everyday, showcasing different types of poetry while at it. Choose some or all. For elementary grades, let this book inspire scholars during a poetry unit for reader's/writer's workshop, in which children then select their preferred poetry style and compose poems about gratitude.
---
Just So Thankful (Little Critter) by Mercer Mayer (Ages 4-10 perScholastic)
Mercer Mayer and his Little Critter don't disappoint. This book is about appreciating the love of your family over material things, a lesson we all need to be reminded of from time to time. Available in Spanish as Tan agradecido.
---
My Book of Thanks by B.G. Hennessy (Ages 4-8 per Amazon)
Hard to make this book secular friendly, since it's a letter to God, but I love how it goes beyond what things to be grateful for with specific examples of how to to act on those feelings to really show our gratitude.
The cover pictured is the newest version, and in my opinion more attractive to children.
---
The Thank You Book (Elephant & Piggie) by Mo Willems (Ages 4-8 per basically everyone)
My 2 year-old LOVES Elephant and Piggie, but this one is a bit long, and some of the humor is beyond him. We will try reading this book in sections or with Daddy so that we can each do one of the voices. Our little buddy loves that.
It will be fun for any Elephant and Piggie connoisseurs to recognize the secondary characters from the series as Piggie goes through all of her thanks.
---
Thank You Prayer by Josephine Page (Ages 4-8 per Scholastic)
As the title suggests, this is a prayer book, so it won't work for secular mommas and maestras. Caroline Jayne Church did the illustrations which, of course, means they are simply adorable. Available in Board book and also in Spanish as Te Doy Gracias.
---
Let's Be Thankful by P.K. Hallinan (Ages 4-8 per B&N)
A secular Hallinan book giving thanks for a nice range of things, from bugs and puppies to teachers, family, and our country. Hallinan has authored several other "Let's be…" books aimed at some aspect of character education. Available in Board book.
---
Feeling Thankful by Shelley Rotner & Sheila Kelly, EdD (Ages 4-8 per Amazon)
This is the only nonfiction book I found that met my criteria: good for early childhood and not Thanksgiving specific. The pictures represent children and diversity beautifully. If you know of other nonfiction books to add to the list, send 'em my way with a comment below!
---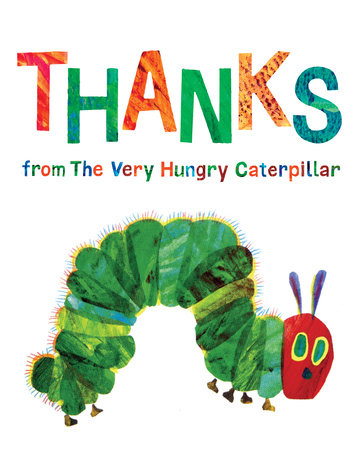 Thanks from the Very Hungry Caterpillar by Eric Carle (Ages 3 and up)
A charming read-aloud filled with joyful illustrations from the World of Eric Carle, this book also makes a great gift to show your gratitude to a special person. First time I read it, I wanted to buy it for my mami. Parents, flag this one for teacher appreciation day, and your child's teacher will be beaming!